DataBurning 1.0 beta 56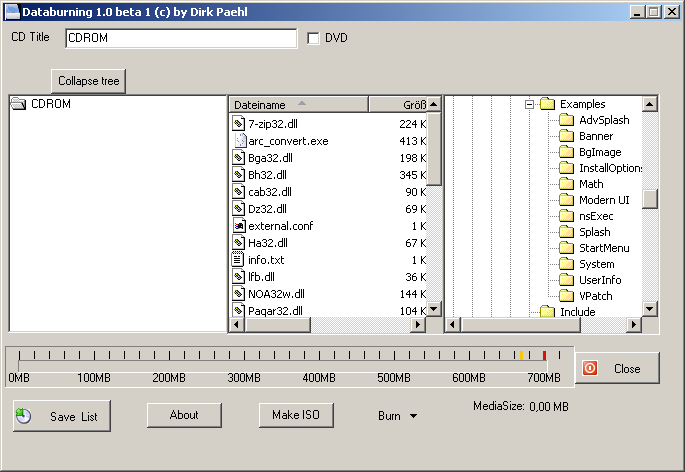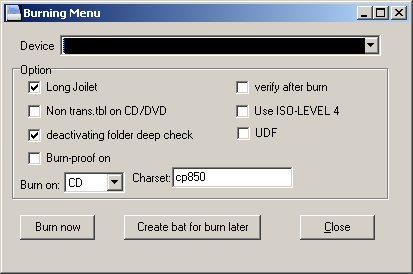 This program use the CDRTOOLS for burning CD and DVD incl DVD-RAM support.
You can burn your data directly on the FLY or later via batchfile. Include Verify after burn. This program does not run under Win9x, only W2K / XP or higher Vista ready.
Burn ISO and verify and burn CUE/BIN
Or you can create a mkisofs path-file or commandline use the cdrtools. Include the original CDRTOOLS 2.01a60 with DVD / DL and DVD-RAM support
With PRODVD support (NO MORE NEEDED).


Download PASSWORD:dpaehl

SHA1: 98198597156f183c0d9c56d48e1868ceabcb7695
MD5: ac5ee17bee1bc4c5fa6aae9cf8b26b23
Size: 2386.28 KB



Download the portable version

SHA1: e54d516a63603296a46a1cb9df46abaa5ed22797
MD5: 43c245570fd40c5319726b7aaa927438
Size: 2468.92 KB



Download the U3 version

SHA1: e8ed07078ea83ce2549939198a2a8ce48422d129
MD5: bf528c9521d9b909e06805dc52b4c7d4
Size: 3128 KB


or here:
Download
An optional CD/DVD EraseDLL 1.04 for Databurning.

An optional CD/DVD eraser for Databurning